ML-250-S1BYF
made in JAPAN
Download
Attention:This download system is not compatible with Internet Explorer.Please use the browsers of Google Chrome, Microsoft Edge and Mozilla Firefox.
Please read the download terms when downloading data.
*For the Environmentally Friendly Substances Report, please see our Environmental Initiatives.
*For tools to view chemSHERPA data, see the download procedure. For the survey list, please see here.
* If red phosphorus is intentionally added, it is voluntarily reported by chemSHERPA.
*The version of Conflict Minerals Reporting Template (CMRT) is Ver6.01.
Please select the file to download.The file that can be downloaded differs between non-members and members. Please refer to "? Help" for details.
Help
About the Document Download Page
On this page, you can download documents related to our products.
The documents available for download are different for visitor and members.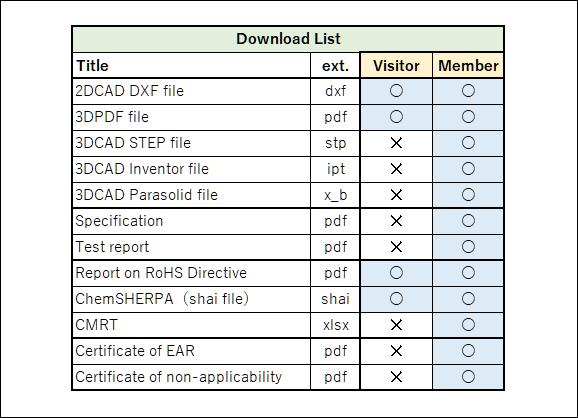 The explanation of the screen is as follows.



(1) Click in the frame of ① to open the Product Details Page.
(2) Click in the frame of ② to open and close the accordion for each product.
(3) In the common items, you can select materials common to the series.。
(4) In the detailed model number item of the series, you can select the material for each detailed model number.
(5) After selecting the required document, click "Download selected file >" at the bottom to start downloading the file as a ZIP file.

Related products
TJ-3B

Partially discontinued product